About Ice Cream Emergency
We Are Passionate About Our Business
We are a family owned business headquartered in Oxford, CT. We have over 12 years of experience in the catering and event arenas and we and our franchisees look forward to servicing your events! Don't you just LOVE ice cream and the way it makes you feel? We do too! In fact, that's how Ice Cream Emergency came to be. Ice cream is a social, congratulatory food and it is always associated with appreciation, pride and happiness. When we think of ice cream, a smile spreads across our faces and we bring this happiness to your event and your guests.
We can't think of a single time when ice cream hasn't been associated with a happy occasion. So, we created Ice Cream Emergency – a mobile, full-service ice cream parlor disguised as a whimsical rescue vehicle that comes directly to your event. We use super premium, gourmet ice cream that is to die for (please don't take this literally, we are not a real emergency vehicle!). We also offer a selection of delicious frozen yogurt, dairy-free and vegan sorbet, no-nut flavors, and gluten free options. We are open almost all year. Weather is not a concern as your guests board the Ice Cream Emergency Bus and are served INSIDE. Call us NOW to book your next event. Your guests will be wowed and talking about Ice Cream Emergency for Years!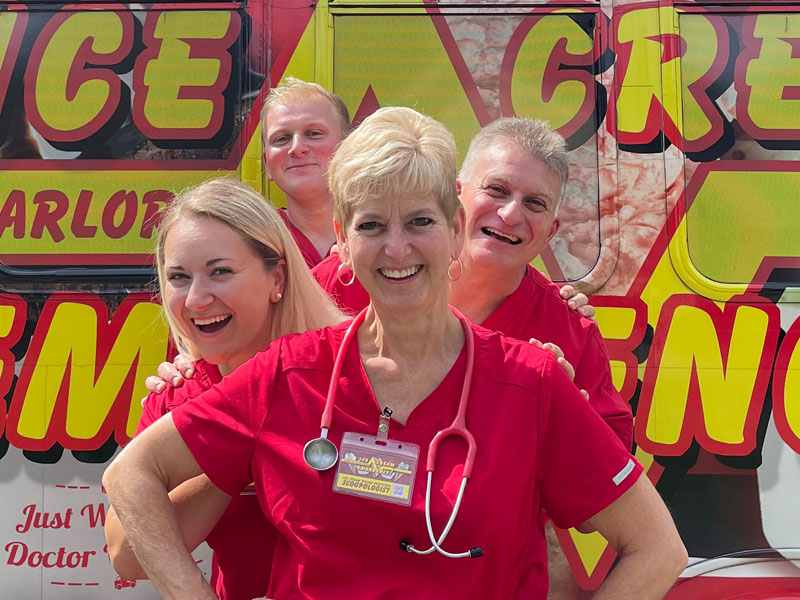 Hire the Ice Bus for Your Next Event!
The Scoop On Small Business
Debra J. Arrato is a 25 year veteran entrepreneur who started out in the corporate arena in the retail banking industry. She spent 10 years as an Assistant Vice President, Branch Manager, and Loan Officer. With the goal of starting a family and being able to nurture her children, she resigned from the bank to start her own home-based business, utilizing a direct sales company business model. She is published (How the Fierce Handle Fear) and has also written an E-Book series on how to start a home-based business (The Homestyle Entrepreneur).
"Whatever the mind can conceive and believe, it can achieve."
– Napoleon Hill
"Never, never, never, never, never, never, never give up."
– Winston Churchill
They are awesome we had ice cream emergency for our daughters high school graduation! Wonderful people too!
We had ICE for our sons bday. Huge hit. From the time Debbie pulled up until they left our home…perfecto.
Debbie is amazing and has been the perfect touch to our school events and my husband's work events not to mention the birthday parties we've been to that she has orchestrated. I highly recommend you book Debbie for your next event.
The most important thing to know about starting your own business is what you put into it you get out of it. It's happy, it's an experience, you bring smiles, you become a kid again as soon as you walk in the bus. It's cool! It's full of candy and ice cream, it's everybody's dream. We are all there for each other. We love to brainstorm with each other. It's yours, that's the biggest thing, it's yours.
It's so fun to see how many people came through the bus! Crazy that we put smiles on over 4700 people's faces this past month!
Dream of Owning a Business?
Ice Cream Emergency is a franchise like no other. The guests actually come INSIDE the ICE Bus to be served ice cream. The interior is designed to replicate an old fashioned ice cream soda fountain parlor, all tied into a rescue theme!